Treat your feet to our Orthopedic Spring Bling Sneakers, give your feet the comfort they deserve

Spring season means carefree footwear, but for those who suffer from painful conditions like plantar fasciitis, bunions, or even general painful feet, it can be tricky to find shoes that will give all-day comfort.
Our best selling stylish Spring Bling sneakers features extra cloud cushioning to keep you looking-and feeling-good all day. It's perfect for spring walks and to help you enjoy the outdoors and stay active!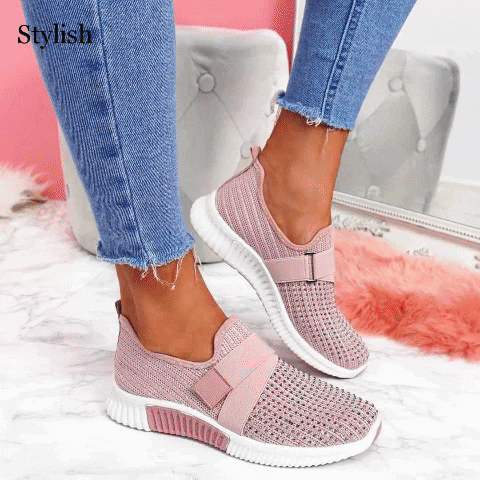 ⭐️⭐️⭐️⭐️⭐️
"I have 2 pairs of them, they are so stylish, I wear them wherever I go. I often get asked where I get them from, I told them I get them from Yeshershop!"
Cindy A.


SLIP THEM ON IN SECONDS: Feature a wide and stretchable entrance which makes it easy for you to put them on, no laces needed!
COMFORTABLE SUPPORT: Our sneakers have a soft and smooth sole paired with a secure design so you walk in comfort without foot pain.
SOFT INSOLES: The soft and supportive insole allows you to walk for hours in comfort without foot pain.
MAXIMUM BREATHABILITY: The irresistibly soft mesh keeps your feet cool and dry even on the warmest of days.
WALK ON A CLOUD: Slip your feet into the lightest and most comfortable sneakers, designed to give you the softest impact with the ground - making long time walking and standing more comfortable
HIGH QUALITY: Made from premium knitted material and does not contain BPA or any other toxic compounds so it is guaranteed safe to use and non-irritable on skin.
RECEIVE COMPLIMENTS: A contemporary design that draws a second glance everywhere it goes
Available Online Only. FREE Worldwide Shipping Included!